Following her classical studies at the Royal Conservatories of Mons and of Brussels, and her studies with Jean Absil, Annette Vande Gorne chanced upon acousmatics when on a training position in France. Instantly convinced, by the works of François Bayle and Pierre Henry, of the revolutionary nature of this art form (disruption of perception, renewal of composition through spectromorphological writing and listening conduction, historical importance of the movement), she took a few training positions to grab its basics, then studied musicology (ULB, Brussels) and electroacoustic composition with Guy Reibel and Pierre Schaeffer at the Conservatoire national supérieur in Paris.
She founded and manages Musiques & Recherches and the Métamorphoses d'Orphée studio (Ohain, 1982). She also launched a series of concerts and an acousmatics festival called L'Espace du son (Brussels, 1984; annual since 1994), after assembling a 60-loudspeaker system, an acousmonium, derived from the sound projection system designed by François Bayle. She is the editor of the musical aesthetics review Lien and Répertoire ÉlectrO-CD (1993, '97, '98), a directory of electroacoustic works. She also founded the composition competition Métamorphoses and the spatialized performance competition Espace du son. She gradually put together Belgium's only documentation centre on that art form, available online at electrodoc.musiques-recherches.be
She gives numerous spatialized acousmatic music performances, both of her own works and the works of international composers.
Professor of acousmatic composition at the Royal Conservatory of Liège (1986), then Brussels ('87), and Mons ('93), she founded an autonomous Electroacoustic Music section at the latter, later (2002) integrated to the European graduate studies framework. Since 1999, she has been managing an international summer training session on spatialization and — since 1987 — on electroacoustic composition.
Her works can be heard in every festival and on every radio program presenting fixed media-based (previously 'tape') music.
In 1995 she was awarded the Prix SABAM Nouvelles formes d'expression musicale [SABAM Prize for New Forms of Musical Expression].
Her current work focuses on various energetic and kinesthetic archetypes. Nature and the physical world are models for an abstract and expressive musical language. She is passionate about two other fields of research: the various relationships to word, sound, and meaning provided by electroacoustic technology, and the composition of space seen as the fifth musical parameter and its relationship to the other four parameters and the archetypes being used. Her work falls essentially in the acousmatic category, including the Tao cycle and Ce qu'a vu le vent d'Est, which renews electroacoustic music's ties with the past, with a few incursions in other art forms, including theatre, dance, sculpture, etc.
[English translation: François Couture, ii-18]
Anna Korsun (1986, Ukraine) studied composition in Kiev and Munich with Moritz Eggert.
Anna combines in her creativity musical composition, installation, performance and sound art. She works for different formations from solo to orchestra, including acoustic instruments, voice, electronics and sounding objects. She collaborates with visual arts, dance, theater and literature. Anna involves into her works both professional and amateur musicians, as well as non-musicians. Besides an activity as an artist Anna performs contemporary music as vocalist/keyboard instruments, directs musical projects and teaches composition at Amsterdam conservatory, as well as at international courses.
She participated at international festivals such as eclat, Darmstädter Ferienkurse, ISCM, Warsaw Autumn, Festival Musica Strasbourg, worked with Neue Vocalsolisten Stuttgart, SWR Vokalensemble, ensemble mosaik, ascolta, ensemble modern, AskoSchoenberg, Camerata Silesia, Silbersee, Bavarian Academy of Theater August Everding, Ludwik-Solski-Academy for performing arts in Krakow, LOH-Orchester, Thüringer Symphoniker. She was artist-in-residence at Villa Massimo in Rome, Residency for New Music Goethe Institute Canada, Academy Schloss Solitude, Cité internationale des arts in Paris and others. Anna was awarded Prize of Christoph-and-Stephan-Kaske-Foundation, Gaudeamus Award, Kunstpreis Berlin and Open Ear of Trillende Lucht Foundation.
Born in Italy in 1984, Daniele Ghisi studies Composition with Stefano Gervasoni and Mathematics at the University of Milano Bicocca. Between 2008 and 2011 he follows Ircam's "Cursus de composition et d'informatique musicale". In 2009-2010 he is composer in residence at the Akademie der Künste in Berlin, in 2011-2012 he is member of the Académie de France à Madrid – Casa de Velázquez. In 2012 he is research composer at Ircam. In 2013-2014 he is research assistant at the Haute École de Musique in Geneva; in 2019 he is artistic/scientific consultant within the same institution. In 2015 he is composer in residence with the Divertimento Ensemble in Milan, recording his first monographic CD ("Geografie"). In 2017 he obtains his PhD in Composition and Music Research at Ircam/UPMC/Sorbonne. Between 2017 and 2022 he teaches Electroacoustic Composition at the Conservatories of Genova and Piacenza. In 2020 he is researcher at CNMAT/University of California, Berkeley. He currently teaches Electroacoustic Composition at the Conservatory of Turin. His music is edited by Ricordi. He is co-founder of the /nu/thing collective (www.nuthing.eu) and co-creator of the project "bach: automated composer's helper", a real-time computer-assisted composition library (www.bachproject.net).
photo ©Deborah Lopatin | Ircam
Horacio Vaggione has been integrating computers to his approach to composition since the 1970s. His body of work includes electroacoustic pieces, mixed pieces, and instrumental music.
Born in 1943 in Argentina, Vaggione has been residing in France since 1978. He studied piano with Ornella Ballestreri and composition at Universidad Nacional de Córdoba (Argentina, 1959-62) and in Buenos Aires (Argentina) with Juan Carlos Paz. He holds a PhD in musicology from Université Paris 8 (France, 1983), where he worked under Daniel Charles.
Horacio Vaggione cofounded the Universidad Nacional de Córdoba's Centro de música experimental (CME) in 1965. A year later, on a Fulbright fellowship, he was introduced to the computer as a music tool by Lejaren Hiller and Herbert Brün at University of Illinois (Urbana, Illinois, USA). In 1969-73, he joined Luis de Pablo in the electroacoustic music studio Alea in Madrid (Spain), after which he worked in various French studios — GRM, IRCAM, IMEB — and in several European and North-American universities. He was artist-in-residence in Berlin (Germany) in 1987-88 on a fellowship from DAAD.
Horacio Vaggione won awards in numerous international competitions, including NEWCOMP (Cambridge, Massachusetts, USA, 1983); the ICMA Award (1992), the Euphonie d'or (Bourges, France, 1996), the Ton Bruynèl Award (The Netherlands, 2010), and the Giga-Hertz-Preis 2012 (Karlsruhe, Germany).
Starting in 1989, Horacio Vaggione worked at the Music Department of Université Paris 8 (France) as a professor, PhD research director, and director of the Centre de recherche informatique et création musicale (CICM). He became Professor Emeritus in 2012.
[English translation: François Couture, ix-17]
Fabio Cifariello Ciardi (1960) is a composer interested in using sound and technology to mine real-world phenomena. Since 2006 he has been interested in the instrumental transcription of speech.
He studied with Tristan Murail, Philippe Manoury (IRCAM), Franco Donatoni (Accademia S.Cecilia).
His compositions have been awarded at competitions such as L. Russolo 1992, ICMC 1993 CD-selection, IMEB-Bourges 1998, Valentino Bucchi 1999, AITS "Best sound in Italian motion pictures 2011" (Rome, Italy), and commissioned by Venice Biennale, Orchestra Haydn di Trento e Bolzano, Divertimento Ensemble - Ernst von Siemens Music Foundation, Instituts für Neue Musik Friburg, Singapore University, Stockholm Electronic Music Studio, IMEB Bourges.
In 2006 Arte.tv has produced the Piroschka Dossi's and Nico Weber's documentary about Cifariello Ciardi's sonifications of stock market data.
He has developed software algorithms for dissonance calculation, sound spatialization, financial data sonification, speech instrumental transcription, and several computer-aided composition tools.
This year, his paper Strategies and tools for the sonification of prosodic data: a composer's perspective has won the Best Paper Award at the 26th International Conference on Auditory Display.
Cifariello Ciardi is a tenure professor of Composition at Trento Conservatory (www.conservatorio.tn.it) and he is one of the founding members of Edison Studio (www.edisonstudio.it).
Gregory Charette (b. 1987 in Los Angeles) is a conductor and programmer deeply committed to the performance and promotion of new music. He is currently music director of Oerknal, a contemporary music ensemble dedicated to reimagining and reinvigorating the concert experience, and is conductor of Orkest de Ereprijs (NL) for the 2021/22 season. He studied with Pierre Boulez at the 2011 Luzern Festival and has served as conductor in the Holland Festival's John Cage Centennial as well as the Aldeburgh Festival's Emerging Composers Program, where he worked closely with Oliver Knussen and Colin Matthews. He made his debut with the Asko | Schönberg Ensemble in the opening concert of the 2012 Gaudeamus Festival, stepping in at short notice for Etienne Siebens.
Gregory earned his B.M. in composition from the Oberlin Conservatory of Music, where he studied with Lewis Nielson and participated in master-classes with Helmut Lachenmann, David Lang, and Rebecca Saunders. He moved to The Netherlands to study orchestral conducting at the Royal Conservatory of The Hague and earned his M.M. from the Dutch National Masters in Orchestral Conducting, a program that allowed him the opportunity to work with various professional Dutch orchestras in master-classes, rehearsals, and performances. His primary teachers were Jac van Steen and Kenneth Montgomery.
Engagements have included concerts with Nederlands Philharmonisch Orkest, Residentie Orkest, RTSH Orchestra (Albania), Kosovo Philharmonic, Noord Nederlands Orkest, Philharmonie Zuidnederland, Nieuw Ensemble, Ensemble Contrechamps, Britten-Pears Ensemble and SONEMUS Ensemble (Bosnia). He works regularly with the Asko | Schönberg Ensemble and has served as guest lecturer at the Conservatorium van Amsterdam and the Royal Conservatory of The Hague. Gregory currently resides in Rotterdam.
Sarah Nemtsov was born in Oldenburg, Germany in 1980 and studied composition in Hanover and Berlin with Nigel Osborne, Johannes Schöllhorn and Walter Zimmermann. She is the recipient of numerous grants and awards, including the Busoni Composition Prize of the Berlin Academy of Arts, the German Music Authors' Prize of GEMA (the German performance rights association) and the international ricordilab prize for composition. She works closely with prestigious ensembles and orchestras, including the radio symphony orchestras of Frankfurt and Vienna, the Deutsches Sinfonieorchester (Berlin), Ensemble Musikfabrik (Cologne), Klangforum (Vienna), ensemble modern (Frankfurt), ensemble mosaik (Berlin), Ensemble Adapter (Berlin), Neue Vocalsolisten (Stuttgart) and Ensemble Intercontemporain (Paris), and her works are performed at such renowned international festivals as Donaueschingen, Darmstadt Summer Courses for New Music, Wien Modern, ECLAT, Ultraschall, Holland, Musica, Bregenz and Munich Biennale. Nemtsov's innovative music is characterized by powerfully conceived sonic combinations; complex, energetic textures; musical layering; and interaction between acoustical instruments and electronics. Literature and other art forms are important inspirations, and her compositions often address political and social topics. Her catalogue includes more than 100 works and virtually every genre. Since 2016, she has been published by Ricordi. In 2014 Nemtsov taught composition as a guest lecturer at the Cologne Hochschule für Musik und Tanz; in the summer semester of 2018, she taught composition as a DAAD guest lecturer at Haifa University; and she also regularly teaches composition courses (for example, at Darmstadt in the summers of 2021 and 2023). In 2020, Nemtsov was nominated for Opus Klassik's "Composer of the Year" prize. In 2021, she was admitted as a member of the Berlin Academy of Arts. About her opera SACRIFICE (premiered in 2017 at the Halle Opera) Die Zeit wrote: "Sound becomes space becomes time becomes reality." Currently she is working on her latest opera OPHELIA for the Saarbrücken State Theatre (world premiere: May 2023). Sarah Nemtsov lives in Berlin with her three children and her husband Jascha Nemtsov, with whom she also is co-director of the gallery and public venue Raum für Kunst und Diskurs (Space for Art and Discourse).
Flavia Mazzanti is an Italian-Brazilian Vienna based artist, architect and entrepreneur in the field of virtual reality and digital media. She is co-founder of Immerea OG – an interactive media company focusing on the development of VR games and virtual installations –, external lecturer at the University of Innsbruck and active as lecturer in national and international talks and symposiums.
Flavia graduated with distinction at the Academy of Fine Arts Vienna, receiving the Gustav Peichl Award for architectural drawing and the Würdigungspreis for artistic work. Through the use of immersive media and experimental filmmaking, her work is often confronted with artistic-philosophical theories on post-anthropocentrism and new materialism, with the interest in providing alternative perspectives on ourselves and our environment. Her work has been screened and awarded at multiple national and international festivals, among others the Ars Electronica Festival, DA Z - Digital Arts Festival Zurich, ADAF.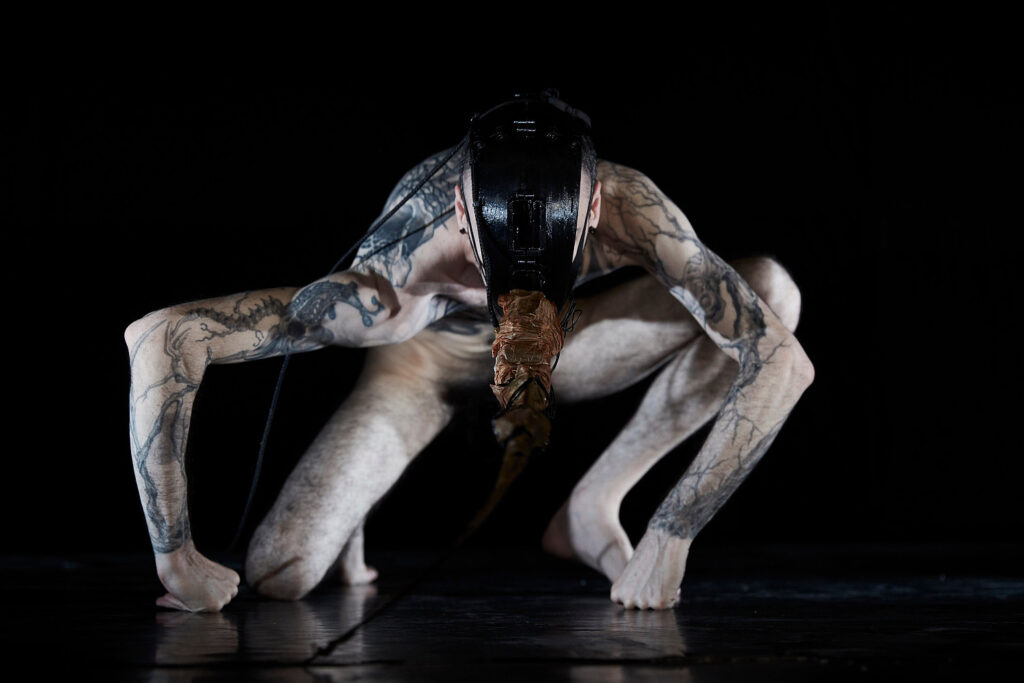 Marco Donnarumma is an artist, performer, stage director and scholar weaving together contemporary performance, new media art and interactive computer music since the early 2000s. He manipulates bodies, creates choreographies, engineers machines and composes sounds, thus combining disciplines, media and emerging technologies into an oneiric, sensual, uncompromising aesthetics. He is internationally acknowledged for solo performances, stage productions and installations that defy genres, and where the body becomes a morphing language to speak critically of ritual, power and technology.
Donnarumma's latest cycle of dancetheater productions, performances and robotic installations is entitled 7 Configurations. It dissects the conflicts between AI and body politics through human-machine choreographic methods aimed at experimenting with the corporeal and psychological relationships of four human performers and six AI prostheses. In 2019, he co-founded the performance artists group Fronte Vacuo with Margherita Pevere and Andrea Familari. Their series Humane Methods consists of hybrid live art events as social experiments, where human performers and audiences, non-human organisms and AI-driven machines expose the violence of today's algorithmic societies.
Touring consistently for the past fifteen years across major and independent theaters, concert halls, festivals and museums worldwide, most recently Donnarumma's work has been shown, among others, at Volkstheater Wien (AT), Münchner Kammerspiele (DE), Romaeuropa Festival (IT), Ming Contemporary Art Museum (CN), Chronus Art Center (CN), Ars Electronica (AT), Donaufestival (AT), Haus der Kulturen der Welt (DE), NRW Forum (DE), Nemo Bienniale/HeK Basel (FR), LABoral (ES), musikprotokoll (AT), CTM Festival (DE), tanzhaus nrw (DE), Laznia Center for Contemporary Art (PL), and Kontejner (HR).
His repertoire received numerous acknowledgements, most recently: Autonom Grant 2020-22 by Fonds Darstellende Künste and Berlin Senate Department for Culture and Europe for ∑XHALE; Digital Award at Romaeuropa Festival 2018 for Eingeweide; two awards at the Bains Numériques Biennial 2018, as well as the Award of Distinction (2nd prize) in Sound Art at Prix Ars Electronica 2017 for Corpus Nil; Artist of the Science Year 2018 by the German Federal Ministry of Research and Education for Amygdala.
Donnarumma holds a Ph.D. in performing arts, computing and body theory from Goldsmiths, University of London. In 2020-21 he was a Research Fellow at the Akademie­ für Theater ­und Digitalität, Dortmund. Previously, in 2016-18, he was Research Fellow at Berlin University of the Arts in partnership with the Neurorobotics Research Laboratory. He was funded by European Commission, Goethe-Institut, Berlin Senate, Fonds Darstellende Künste, Rockefeller Foundation, British Council and New Media Scotland. His writings are published by MIT Press, Oxford University Press, Routledge, ACM and Springer.