Hong's music has been described as "a work of iridescent freshness" (BBC Music Magazine), "the sound is utterly luminous" (Fanfare Magazine), and "the harmonies and fluid dynamics were modern" (The New York Times). Her compositions include works for solo instruments, orchestra, chorus, ballet, and electroacoustic media with special interest on timbre and pre-determined pitch structures. Her honors include a Guggenheim Fellowship, a Charles Ives Fellowship from the American Academy of Arts and Letters, commissions from the Fromm Music Foundation, the National Flute Association, the MATA Festival, Lorelei Ensemble, the Tongyeoung International Music Festival, Kumho Asiana Cultural Foundation, and the Seoul Philharmonic Orchestra. Her Missa Lumen de Lumine on the ECM New Series (ECM 1929), performed by the vocal ensemble Trio Mediaeval, received critical acclaim and reached the top ten on the Billboard Classical Chart and iTunes classics.
Hong holds degrees from Hanyang University, the Royal Academy of Music, and the University of York in the United Kingdom. She was the Manson Fellow of Composition at the Royal Academy and was made an Associate of the Royal Academy of Music (ARAM), London. Hong is an Assistant Professor of Music Composition at the University of North Texas.
Since the 1970s he has been dedicated to electroacoustic music composition with live performance. His works are generated by instrumental sounds and natural sounds that are electronically processed in real time and spread with multi-channel spatialization techniques. He has received international awards from various institutions (IMEB of Bourges, Ars Elettronica of Linz, Hungarian television, Canadian Opus award). In addition to the purely musical sphere, Luigi Ceccarelli has dedicated himself to musical theater, creating performances with the Teatro delle Albe and Fanny & Alexander. For these works he received the UBU Award, the Bitef Festival of Belgrade and the Mess Festival of Sarajevo. In the 1980s he worked as a musician with the choreographer Lucia Latour, and later with the Norwegian dance company Wee and with the South African choreographer Robin Orlin.
In the 90s created radio works produced by Rai RadioTre with texts by Stefano Benni, Valerio Magrelli and Elias Canetti.
He is one of the founding members of Edison Studio with whom he created the soundtracks of various films of the 10s, published by the CIneteca of Bologna. Among these, the soundtrack for the film "Inferno" received the AITS award in 2011. From 1979 to 2020 he held the chair of Electronic Music at the Conservatory of Music in Perugia and later in Latina. Over the years he has approached extra-European music on many occasions, creating works influenced by the music of other musical cultures. For some years he has also dedicated himself to improvisation concerts as an electroacoustic interpreter.
Nicolas Bernier creates audiovisual performances and installations aiming to carve a dialogue between sound and tangible matter. Shaped by his work within the fields of cinema, literature, dance and theatre companies, his own language blend together elements of music, photography, design, science, video art, architecture, light design and scenography. In the midst of this eclecticism, his artistic concerns remain constant: the balance between the cerebral and the sensual, and between organic sources and digital processing.
Awardee of the prestigious Golden Nica at Prix Ars Electronica 2013 (Austria), his work widely recognize, presented all over the world: SONAR (Spain), Mutek (Canada), Elektra (Canada), ZKM (Germany), Transmediale (Germany) and LABoral (Spain) to name a few. His sound compositions are widely published on electronic music labels: 901 Editions (Italy), LINE (US), leerraum (Switzerland), Entr'acte (UK) and empreintes DIGITALes (Québec).
He holds a PhD in sonic arts from the University of Huddersfield (UK). He is a member of CIRMMT and Hexagram media arts research and development centres based in Montreal. He is teaching in the Digital Music program of the Université de Montréal.
Daniela Terranova is an Italian composer working in the area of concert music, opera and extended sonic environments. Her recent work revolves around the sound substance conceived as 'sonic dramaturgy', strongly linked to an exploration of the matter the instruments are made of.
Her work has won several national and international competitions, including: 'SIAE – Classici di Oggi'; I prize at the international competition 'Gianni Bergamo Classic Music Award'; Special Mention for the Italian Music: 'Premio SIAE'; the prize 'Nuova Musica alla Fenice'; I prize at the International Composition Contest 'Vieri Tosatti' (Rome); the prize 'Monte dei Paschi di Siena' (Accademia Chigiana, Siena); the prize 'Franco Donatoni International Meeting for Young Composers' (Divertimento Ensemble, Milan).
Her music has been performed at many festivals and concert seasons, such as: IRCAM's Concert Season; London Sinfonietta's Concert Season; Wiener Konzerthaus; Open Music, Graz; Gare du Nord Basel; Ultraschall Berlin; Biennale Musica 2019, Venice; Foundaciòn BBVA, Madrid; Festival Mixtur and Festival Barcelona Modern; Teatros del Canal, Madrid; Teatro Central, Seville; Budapest Music Center; Time of Music Festival, Vitasaari ; Musikaliska Concert Hall, Stockholm; Italian Academy of the Columbia University, New York; Festival Vértice, Mexico City; Festival Traiettorie, Parma; Festival Nuova Consonanza, Rome; Gran Teatro La Fenice; Auditorium Parco della Musica, Rome; OPV (Orchestra di Padova e del Veneto) Concert Season, Padua; La Verdi Symphony Season, Milan; Divertimento Ensemble's Concert Season, Milan.
She graduated with honors in Classical Languages and Literature at the University of Trieste, and in 2015 completed her international PhD program in Audiovisual Studies at the University of Udine (in collaboration with Université Sorbonne Nouvelle – Paris 3), with a dissertation entitled 'Myth and Music in the Contemporary Musical Production for Theatre'.
Her music is published by the editor Suvini Zerboni - Sugarmusic (Milan) and has been broadcast by several radios such as BBC Radio 3 (in the contemporary music programs 'Hear and Now' and 'The New Music Show'), Radio3 Suite, RSI, ORF, Rbb Kultur, Deutschlandfunk Kultur.
Composer. Artistic director of the CRM (Centre for Music Research) in Rome. His activity is distinguished by the interdisciplinary approach that has allowed him to direct his artistic research towards integrated art forms by combining the need for innovation of the musical language with scientific thought. His music includes works for solo instruments, ensemble, orchestra, and electronic music.
For the creation of his own works, he conceived innovative digital systems for real-time performance Fly10 (1983) and Fly30 (1989) and "augmented" musical instruments (Feed-Drum®, SkinAct, Wind-Back).
The collaboration with visual artists and choreographers such as Momo, Uecker, Moricone, Pistoletto, Bonavita, Paladino, and Galizia has marked an artistic path that has turned to the integrated use of the listening environment and has given rise to large temporary and permanent musical installations based on inventive technologies (Sound tubes, Planofoni®, Holophones, Reflecting Screens) and adaptive works which are able to evolve over time according to the environment and the interaction with the user (Lupone-Galizia 2005-2021).
In 2006, he received a commission from the Archaeological Superintendency of Pompeii to install a permanent musical installation in the "Palestra Grande" of the Pompeii Excavations. In 2015, he created the permanent adaptive musical installation "Forme immateriali" for the National Gallery of Modern and Contemporary Art in Rome. For his artistic research, he has received awards from the Budapest Academy of Sciences, the Japan Foundation, the MIUR, the French Ministry of Culture, the Carloni Awards 2013, Scanno 2016, Pleiade International Award (2019), consultancy assignments from Texas Instruments and from the Fiat Research Center. Also, and commissions from musical institutions (including Tanzhaus, Duesseldorf, Maggio Musicale Fiorentino, Teatro Regio di Parma, Kyoto Philarmonic Orchestra, INA-GRM, Festival Aujourd'hui Musique).
James Dashow has had commissions, awards and grants from the Bourges International Festival of Experimental Music, the Guggenheim Memorial Foundation, Linz Ars Electronica Festival,the Fromm Foundation, the Biennale di Venezia, the USA National Endowment for the Arts, RAI (Italian National Radio), the American Academy and Institute of Arts and Letters, the Rockefeller Foundation, Il Cantiere Internazionale d'Arte (Montepulciano, Italy), the Koussevitzky Foundation, Prague Musica Nova, and the Harvard Musical Association of Boston. In 2000, he was awarded the prestigious Prix Magistere at the 30th Festival International de Musique et d'Art Sonore Electroacoustiques in Bourges.
A pioneer in the field of computer music, Dashow was one of the founders of the Centro di Sonologia Computazionale at the University of Padova, where he composed the first works of computer music in Italy; he has taught at MIT, Princeton University, the Centro para la Difusion di Musica Contemporanea in Madrid and the Musica Viva Festival in Lisbon; he was invited by the Conservatorio di Musica Benedetto Marcello in Venezia to teach an intensive series of workshop/masterclasses in digital sound synthesis techniques applied in particular to compositional practices, and to various aspects of the spatialization of sound.
In 2011, Dashow was presented with the distinguished career award "Il CEMAT per la Musica" from the Federazione CEMAT (Roma) for his outstanding contributions to electronic music.
He was composer in residence at the 12th Florida Electroacoustic Music Festival, and he continues to lecture and conduct master-classes extensively in the U.S. and Europe. Recent engagements have taken him to Cracow, Den Haag, Cosenza, Trento, New York, Rutgers University, Edinburgh, Aberdeen, Huddersfield, Sheffield, Chicago, Boston, Universities of Iowa and Maryland, and Washington D.C.
Dashow served as the first vice-president of the International Computer Music Association, and was for many years the producer of the radio program "Il Forum Internazionale di Musica Contemporanea" for Italian National Radio. He has written theoretical and analytical articles for Perspectives of New Music, the Computer Music Journal, La Musica, and Interface, and is the author of the MUSIC30 language for digital sound synthesis. He was the subject of an extended interview published in the Computer Music Journal (Summer, 2003). His music has been recorded on WERGO (Mainz), Capstone Records (New York), Neuma (Boston), RCA-BMG (Roma), ProViva (Munich), Scarlatti Classica (Roma), CRI (New York), BVHAAST (Amsterdam) and Pan (Roma).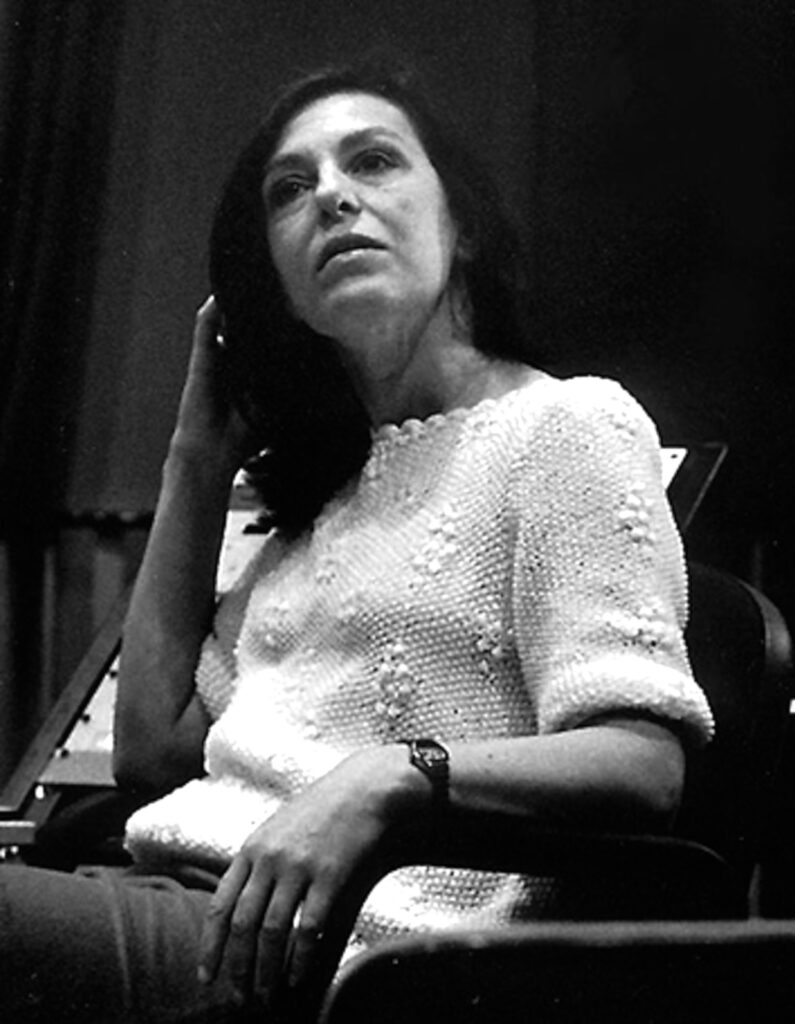 Doctor in Aesthetics, Science and Technology of the Arts at the University of Paris, Justel currently works as an independent composer and video artist. Her works have received numerous awards in international competitions, such as : Prix Ton Bruynel (The Netherlands-2005), International competition of electroacoustic music (Bourges, Frane-1989-2001), Stipendienpreiss (Darmstadt, Germany-1990) and were commissioned by the French government and different European studios. She has developed a pedagogical and research activity at the Universities of Marne La Vallée (France) and Pompeu Fabra (Spain) and several European schools of music.
In 2007 she creates the Foundation Destellos to promote electroacoustic musics and digital arts, organizing an International competition.
Recordings by Empreintes Digitales – Canada (imed-0785 / imed 9837 / imed19161) (http://www.electrocd.com/fr/bio/justel_el/discog/), and other publishers.
Composer, lawyer, and educator, author of the concept of musical 'aftersounds'. His output includes symphonic, chamber, stage, electronic, film music, and intermedia spectacles. His music is commissioned and performed worldwide, throughout Europe, in Asia, both Americas and Australia. Inspired by W. Strzemiński's painting cycle Afterimages of the Sun, he set out to translate this optical phenomenon into music, where real-life sounds coexist with imagined contents, and intuition – with calculations and reflections. Aftersounds has led the composer to musique acousmatique instrumentale: acoustic music that may be experienced as electronic acousmatic music, that is, as sound moving in space without simultaneous observation of moving musicians. His music has been performed by Klangforum Wien, Ensemble Intercontemporain, Ensemble Musikfabrik, Neue Vocalsolisten Stuttgart, Bang On A Can All-Stars, Tokyo Philharmonic Orchestra, Shanghai Philharmonic Orchestra, during La Biennale di Venezia, Manifeste, Huddersfield Contemporary Music Festival, Bang on a Can Marathon, MATA, Espaces Sonores, Sacrum Profanum, Warsaw Autumn. Stańczyk's scores are published by PWM Edition. His records include five monographic CD's published by KAIROS, ANAKLASIS and DUX. He has won more than a dozen international composers' competitions, including the Toru Takemitsu Award. He has received two nominations for Coryphaeus of Polish Music and five for the 'Passport' Award of the 'Polityka' weekly.
mdi ensemble was formed in Milan in 2002 and has been artist-in residence at festival di Milano Musica from 2012 to 2017. In 2017 the group has been awarded with "Una vita per la Musica prize" and recently with "Franco Abbiati Prize". Since the beginning, the ensemble collaborates with composers such as Helmut Lachenmann, Salvatore Sciarrino, Gérard Pesson, Marco Stroppa, Stefano Gervasoni, Sofia Gubaidulina, Unsuk Chin. The ensemble regularly appears at some of the most relevant Italian festivals, such as MiTo Settembre Musica, Venice Biennale, Società del Quartetto di Milano, Ravenna Festival, Festival dei Due Mondi, Festival Transart. Described from the Los Angeles Times as "astonishingly competent", mdi ensemble performs throughout Europe and overseas, notably at Festival Présences de Radio France in Paris, Tonhalle in Dusseldorf, SWR Stuttgart, Festival Jeunesse in Vienna, SMC in Lausanne, Los Angeles County Museum of Arts, Chelsea Music Festival in New York City and Italian Institute in Tokyo. The ensemble also frequently collaborates with eminent conductors such as Marco Angius, Stefan Asbury, Beat Furrer, Robert HP Platz, Emilio Pomarico and Pierre-André Valade.
Since 2016, mdi ensemble has been curating two concert series in Milan (Sound of Wander) and Florence (Contrasti). mdi ensemble's discography includes monographic CDs dedicated to composers such as Stefano Gervasoni, which has been awarded by Academy Charles Cros the prestigious Coup de Coeur – Musique contemporaine 2009, Misato Mochizuki, Giovanni Verrando, Sylvano Bussotti, Marco Momi, Emanuele Casale, Mauro Lanza, Simone Movio. Their DVD See the Sound – Homage to Helmut Lachenmann was broadcasted by Rai 5 and Sky Classica.